.
.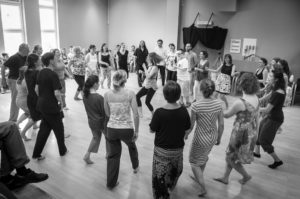 workshop in Poland with Anna Zubryska

.

Some projects involve community participation,  through interviews and testimony, singing workshops and the involvement of community choirs.
.
… two community operas for English Touring Opera,

.

DALSTON SONGS – HOMERTON SINGS, on the theme of home with local voices and stories included.

Soraya Mahdaoui and Chat's Palace Community Choir in
DALSTON SONGS -HOMERTON SING
.
.
Meetings with traditional "argument song" singers in Abruzzo, Italy and creating new such songs with young people in the mountain villages in collaboration with director Anna Maria Talone
.
.

I founded Sing for Water with the Thames Festival in order to raise funds for water projects through mass singing events. The project has raised over a million pounds for water projects in Africa and Asia thanks to the inventiveness and commitment of many choir leaders nationally and internationally. .